Veronica Morris, PhD
President
Veronica Morris lives in South Carolina and has been using service dogs since 2005. She trained both of her service dogs herself, and is currently training her third—a Japanese Chin named Hestia. Her previous service dogs, Sabrina and Ollivander, both assisted her while she earned her PhD. Veronica has a BS in Biology and an MS in Genetics and Molecular Biology from the University of North Carolina at Chapel Hill, and a PhD in Environmental Science, Policy, and Management from the University of California at Berkeley. Veronica is excited to work with and support members of the service dog community through PSDP, and is particularly interested in training facilitation and community support.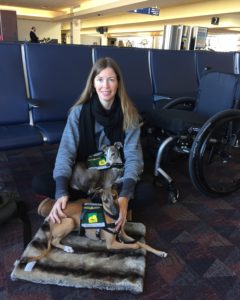 Chanda Hagen
Co-Vice President & Co-Treasurer

Chanda lives in the Santa Rita Hills wine country of Northern Santa Barbara County in California. She helped manage and make wine at Clos Pepe Vineyards and Estate Winery from 1999 to 2015. Chanda studied Equine Science at the University of Findlay in Ohio, worked as a veterinary technician for nearly a decade, and has also trained horses and dogs since childhood. She has used a service dog since 2005. Her current service dog in training, Peregrine, is becoming her constant guardian and lifeline. Working with him allows her to experience the world in ways that would be impossible without his help. Chanda is a devoted advocate for service dogs helping people with mental illness, and is especially interested in clicker training, owner training, and service dog law.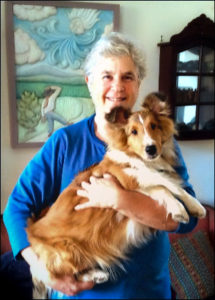 Elaine Malkin
Co-Vice President
Elaine is a disabled mental health consumer from New England, and has been using a service dog since 2003. Elaine has a BA in Psychology. She is currently handler-training her third service dog, a Sheltie named Yvie, and has found this is the best way to continue in her recovery. She is dedicated to helping other people with mental illness learn about service dog laws, training, rights and responsibilities, and the psychiatric service dog lifestyle.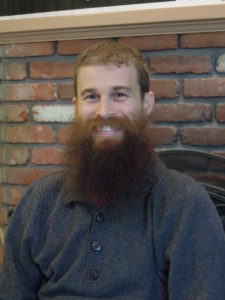 Bradley W. Morris, MA, CPhil
Secretary, Co-Treasurer, & Director of Government Relations
Brad's significant other has been partnered with a psychiatric service dog since 2005, and Brad has been pleased to provide support in many flavors: meeting organization and record-keeping, finances, website crafting, and anything else involving the written word—especially advocacy. He met his spouse at the University of North Carolina at Chapel Hill, where he earned his BA in both Philosophy and Psychology. Brad enjoyed six years at the University of California at Davis earning his graduate degrees in Philosophy and teaching students how to think critically, write persuasively, and lead well-considered lives. He pens PSDP's advocacy papers and served in DC as a co-chair representing service animal users on USDOT's committee to update the service animal flying laws. Through his lengthy immersion in supporting the psychiatric service dog community, he's grown well-integrated into the PSDP family. You can learn more about his passion for the cause and find out what his question is for you on the Brad's Question page!
---
Assistant to the Board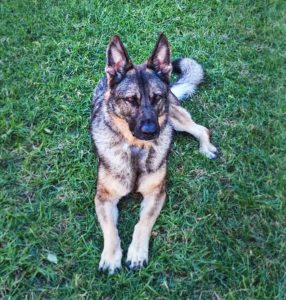 Linden Gue
Linden lives in Southern California and has been partnered with her handler-trained service dog since 2009. She has a BA in Interdisciplinary Studies. A mental health consumer, she is dedicated to grassroots organizational support for people with mental illness, with a special focus on assisting people with mental illness learn the responsibilities of service dog training and lifestyle.
---
Board of Advisors
The Board of Directors consults and collaborates with various parties to formulate policies and products in advancing the PSDP mission. Advisors are special among these parties because they have been consistent in providing significant assistance to PSDP in this vein. They bring experiences and offer perspectives that may be novel to board members. Advisors are not expected to adhere to any PSDP views and are not official representatives of PSDP, but operate as independent and much-valued sources of feedback on an ad hoc basis.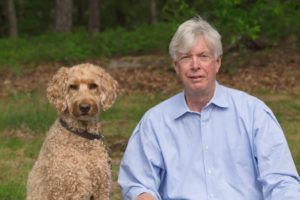 John Ensminger, JD, LLM
John Ensminger is an attorney and member of the bars of the State of New York and the United States Supreme Court. His latest book, Police and Military Dogs: Criminal Detection, Forensic Evidence and Judicial Admissibility, has been released by Taylor & Francis/CRC Press, New York and London. His other publications include: Service and Therapy Dogs in American Society; Money Laundering, Terrorism, and Financial Institutions; and contributions on canine legal and scientific issues to Forensic Science International, the Journal of Forensic Sciences, the Journal of Animal and Natural Resource Law, the Journal of Veterinary Behavior, the Journal of Animal Law, ABA General Practice, Tax Notes, and the Journal of Forensic Psychology Practice. John is a Contributing Editor of the Animal Legal & Historical Center of the Michigan State University College of Law. John's dog Chloe enjoys helping others as a therapy dog.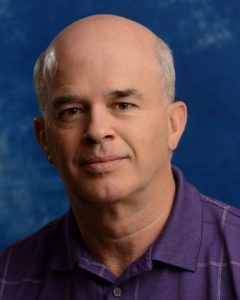 Robby W. Morris, MBA
Rob's daughter-in-law has been paired with a service dog since 2005. Before a successful 21-year career in the U.S. Air Force, Rob earned a BS in Finance from Florida State University. He retired from the military as a Lt. Colonel, acting as liaison between the Air Force and the Army's 18th Airborne Corps at Fort Bragg in North Carolina. He also earned an MBA and completed coursework for a BA in Computer Science while serving. In his second career, he climbed the ranks of a major financial services corporation to retire as an IT Project Manager. Throughout his life, he has served his many communities in a breadth of volunteer capacities. Rob's varied skills, unique background, and consistent compassion make him a welcome advisor for PSDP.
---
Valued past leadership
Justin Mikel was an advisor in 2016-2017. Her entry was as follows.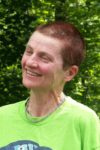 Justin G Mikel, BSEd, MSW, IHC
Justin lives in the mountains of Western North Carolina. She is a psychotherapist, addictions specialist and integrative health coach who is no longer able to practice due to her severe mental illness. Justin is a fierce advocate for the rights of those who struggle with mental health challenges. She serves on the board of her local NAMI affiliate and is also a member of two consumer and family member committees for her local mental health funding agency. Justin speaks to various organizations and college classes about her experience with mental illness and recovery. Justin is the recipient of a 2015 Recovery Champion Award given by the NC One Community in Recovery Conference. Justin is also a published writer and poet. Currently, Justin is working with a Golden Retriever breeder to identify a suitable puppy prospect to owner train as her first psychiatric service dog.